Impeachment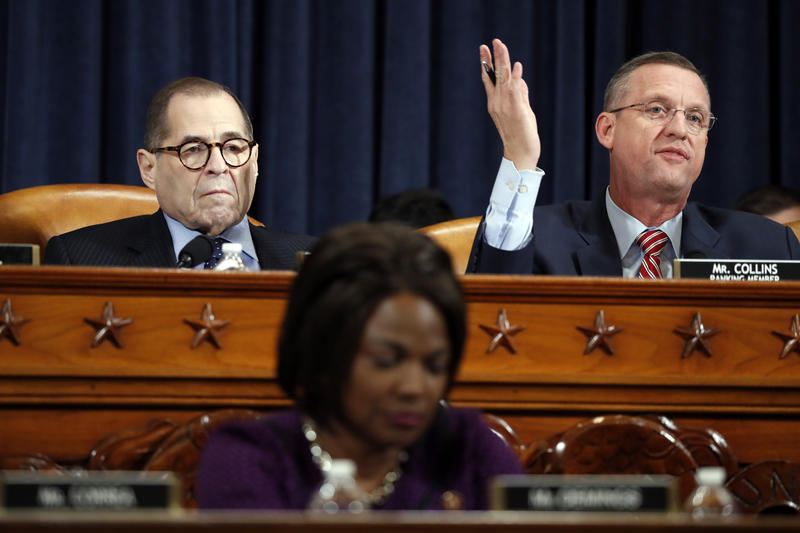 Updated at 10:27 a.m. ET Democrats are undertaking the next major step toward impeaching President Trump. After hours of consideration on Wednesday night of the two articles of impeachment, the House Judiciary Committee is expected to give its final approval on Thursday. The legislation would then head to a vote of the full House, likely by the end of next week. A vote to impeach would trigger a Senate trial over whether Trump keeps his office, expected in January. Watch the Judiciary...
Read More
An effort by Republican board of education members in Killingly, Connecticut to reinstate a high school mascot offensive to Native Americans has stalled.
Read More
More From Connecticut Public Radio
After a B-17 plane crashed at Bradley International Airport in Connecticut, some of the PFAS in the firefighting foam washed out of the airport and into nearby communities . A few days after the crash, Paddy Abramowicz, who lives a 5-minute drive from the airport, says she was walking by the brook in her backyard when she saw piles of firefighting foam more than 10 feet high. "It looked like a washing machine had exploded," says Abramowicz, "and it was coming over both banks of the brook."
Read More
Health Care
In the world of emergency medicine, an unrecognized esophageal intubation is a "never event," meaning that it shouldn't happen under any circumstances. In Rhode Island, it's occurred 12 times in the last three years. In each case, the patient died.
Read More
Environment
When we think about animals that inhabit the cold New England ocean, sharks, seals, or lobsters may spring to mind. But there's another critter lurking in the deep off our coast, and it's one that may hold valuable secrets that could help its tropical cousins. And you may not have even known that it's actually an animal: coral.
Read More
Transportation
A lawsuit over trucks-only tolls in Rhode Island will continue after a federal court reversed a lower court decision to dismiss the case.
Read More
Connecticut Public Talk Shows
Call in to talk about where we live and who we are. Our show highlights Connecticut's diverse communities -- and we want to hear your stories.
We feature topics that vary widely from day to day. You'll hear a thoughtful, smart, interesting conversation with amazing guests.
Connecticut's best journalists come out of the political trenches every Wednesday for our weekly news roundtable.