Election 2020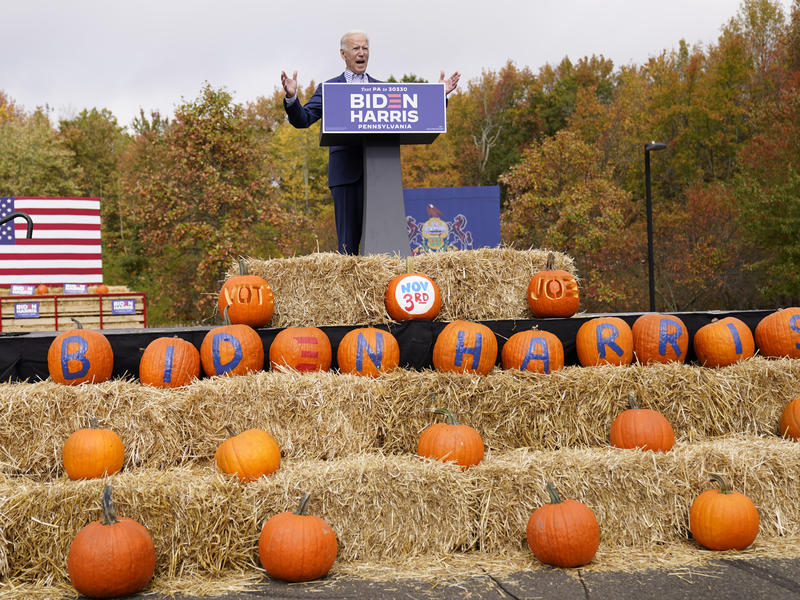 Updated at 5:45 p.m. ET A few dozen cars at a drive-in rally in suburban Pennsylvania honked in unison as Democratic nominee Joe Biden blasted President Trump's handling of the coronavirus. In North Carolina, Trump told a packed crowd: "COVID, COVID, COVID. By the way, on Nov. 4, you won't hear about it anymore." With 10 days to go before Election Day, the president is zipping across the country on Air Force One, holding large rallies and trying to replicate the energy of his first campaign's...
Read More
Turkey growers describe this time of year as the industry's Super Bowl, when orders for turkeys start rolling in. But Thanksgiving will be different this year because of the pandemic. Rick Hermonot said it's still a little early to know how many people will order smaller turkeys from his farm in Sterling. "We're wondering because folks are not having as large a gathering," he said. "But orders have been coming in so far. They look pretty typical. People wanting 12-pounders all the way up to...
Read More
More From Connecticut Public
What we don't learn in school can matter as much as the lessons we do learn. In this fourth and final episode of a special radio series on "Racism In New England," we talk to teachers and students about the harm of omitting stories and cultures from curricula — and how we can do better.
Read More
The Coronavirus Crisis
CURIOUS Q & A
Transcend assumptions. Humanize the stereotyped. Understand the misunderstood.
Call in to talk to host Lucy Nalpathanchil where we highlight CT's diverse communities--and we want to hear your stories. Every day (except Wed.) at 9 am and 8 pm.
Colin covers topics that vary widely from day-to-day. Listen to hear a thoughtful, smart, interesting conversation with amazing guests. Every day at 1 pm and 9 pm.
Connecticut's best journalists come out of the political trenches every Wednesday at 9 am and 8 pm for our weekly news roundtable.
Our weekly show is about all of New England, America's oldest place, at a time of change. Every Thursday at 2 pm and Sundays at 6 pm.