2020 Election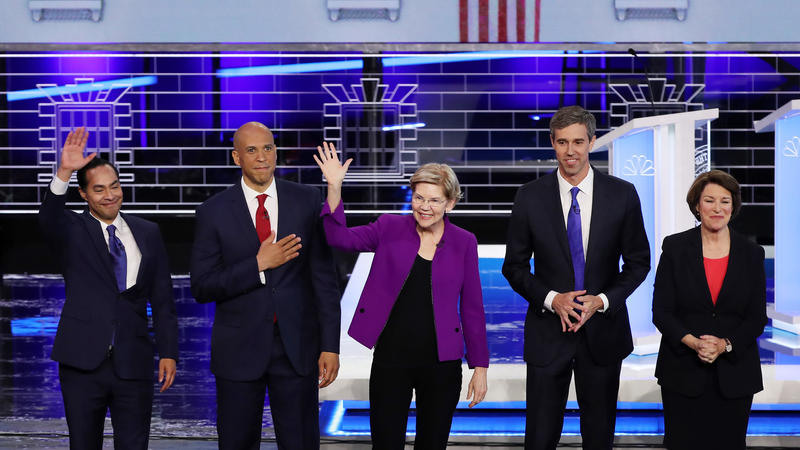 If the overarching question heading into the first debate of the 2020 presidential primary for Democratic voters was "Who can you see as president up there?" it's not certain they got a clear answer. Rather than fireworks — toward each other or President Trump — the candidates took a cautious approach. Will that be the approach on Night 2, Thursday night, with Vermont Sen. Bernie Sanders and former Vice President Joe Biden on the same stage? Here are five takeaways from Wednesday night's...
Read More
The man who's accused of killing seven motorcyclists in an horrific crash in New Hampshire last week had been previously arrested in Connecticut, after refusing a sobriety test -- a revelation that has led to finger pointing between the licensing agencies of two states.
Read More
More From Connecticut Public Radio
Gov. Ned Lamont marked the end of his first legislative session with a casual four-minute address to the General Assembly shortly after midnight Wednesday, inviting 187 lawmakers to join him for a drink in his office, and offering a wry reminder that they are coming back for special session.
Read More
Special Reporting Project
Drugs
On the streets of Boston, the potholed path to treatment often starts with a sandwich. Egg salad is the favorite. Today it's ham. Phil Ribeiro tucks one into the bag of a man who is breathing, but either so sedated or deeply asleep that he's difficult to rouse.
Read More
Immigration
Despite President Donald Trump's recent announcement that he would delay large-scale raids nationwide, immigration advocates say that in Connecticut, detentions of undocumented residents by Immigration and Customs Enforcement are still happening.
Read More
WNPR Shows
Call in to talk about where we live and who we are. Our show highlights Connecticut's diverse communities -- and we want to hear your stories.
We feature topics that vary widely from day to day. You'll hear a thoughtful, smart, interesting conversation with amazing guests.
Connecticut's best journalists come out of the political trenches every Wednesday for our weekly news roundtable.